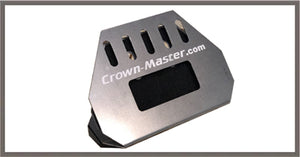 This is the ONLY JIG that allows installers to CUT THEIR CROWN RIGHT-SIDE-UP! 

Being able to cut crown molding "right-side-up" means cutting crown molding is as easy as cutting baseboard! No more cheat sheets... This is an absolute game-changer for installing crown molding! It's quick, easy, and inexpensive! (My kind of tool)! 
Cuts crown molding from 1"- 6" and fits in any miter saw.