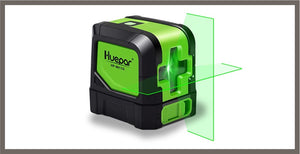 Now... you can BUY or RENT our top-of-the-line Green Line Self-Leveling Laser! Simply choose the "Buy or Rent option"
Buy  = $79 
Rent = $79  (If returned, $40 will be credited to your card).
You will have 60 days to return for credit)

The Huepar 9011G: Mounts onto any standard tripod, and features a super bright green Horizontal and Vertical line visible up to 100Ft! Sharper than red lasers and easier to see. 
Another great feature is the ability to LOCK the laser so that you can use it at angles for tiling etc. 
Customer Reviews
Using EZ-Level
I had my handyman come over and showed him your video. He was still skeptical. My son had one run ******* together already. (My son is legally blind is why we needed help and I'm in a wheelchair until I have hip surgery next Monday). Anyway once I put a level together and showed him where they needed to go he watched the video again Then he was on board. We had to fill under cabinets with 3/4 plywood because hardwood had been installed up to the cabinets. But once we had plywood in and all runs ******* together the levelers I had put together while they pulled cabinets. It went like a dream and so easy to tweak once in place and leveled. Anyone needing to shim cabinets to level need these little gems. They are a dream and I love the green laser I knew about green from our gun sites from crimson trace. Light does not bleed out green. This thing is bright and easy to see in any light. Cannot say enough good about the ease of use. The top hole is tight for the back leveling rod to come through we had to stretch every front hole with the screwdriver before the back leveling rod would fit through. Once we figured that out it was a breeze and so nice not to worry about shims falling over.