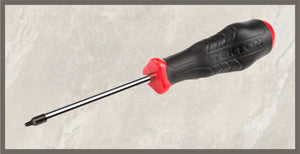 Do I need this? No... But it's VERY VERY VERY helpful. 
Keep in mind, We ship a 3" long #2 bit with every EZ-level order, which works beautifully in any driver. However, I love this handheld driver, for all my Micro-Adjustments.  
I use a low voltage drill to raise cabinets (close) to the laser... and then use THIS tool to hit the line perfectly. Doing it this way means you will almost never overshoot the laser line.
If you're a homeowner, on a tight budget, you might not need this, but if you are a pro installer, then you definitely will want one!